Nourish and Nurture Yourself …
..in the wild coastal beauty of North Devon and let yoga wash away the dust of everyday life.
Join us to create some magic!

Monday to Friday, March 5-9, 2018
Come and join Anaiya and Carolyn as they once again join together and create a magical land to fit into the surrounding wild coastline of North Devon. They will create and guard a scared space for you to make enquiries of your soul.
Using the precise science of Kundalini Yoga, Yoga Nidra and Sophia Wisdom, this Monday to Friday retreat will focus on the 5 elements, or tattwas that make up the human body, earth, water, fire, air and the ethers. We will examine the physical, emotional and spiritual attachments of each one, through Yoga, Nature and Meditation to help us understand who we really are.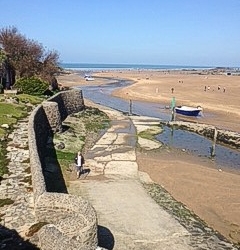 The price of £550 per person, (£450 concessions) will include meals, which will be vegetarian and gluten free, two yoga or meditation classes per day and luxury accommodation in the much-acclaimed spacious Victorian villa, set in half an acre of private gardens and a 5-minute walk from the beach.
Contact Carolyn for registrations and further info.